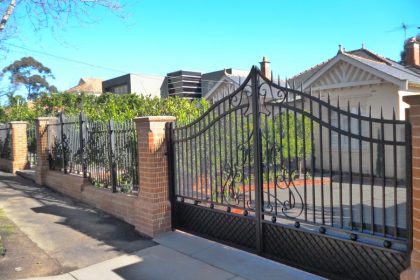 As you are aware, wrought iron is an authentic material that is used to build gates and doors for building. Many people use the term 'wrought iron' to define any metal products. Buying a wrought iron gate isn't an everyday occurrence. With numerous designs of wrought iron gates available in the market, it is sometimes hard to make a decision.
If you are unsure about what you need to consider when it comes to selecting your wrought iron gate, then take a look at some advice from Elegance in Iron below which can assist you to make a more educated decision.
What level of security you require?
Depending on the area you live in or where you work you may need different levels of security. For example, areas with high rates of crime require large gates, railings and doors to secure your premises. You also need taller gates and railings if you are a business owner with dangerous or expensive products and tools.
Some area with lowest security threats and crime rates may require gates with lower railings. You also can select a smaller gate as the possibility of a treat is quiet low.
How limited is your budget?
Budget is one of the most important aspects of buying a wrought iron gate and you need to base your purchase on your budget. The prices of wrought iron gates can significantly vary depending on the design and type of gate you may be after. Driveway gates are usually more expensive than other types of the gates. Wrought iron security gates and pedestrian gates are more affordable as they are generally smaller and require less material in manufacturing. If you expect adding custom modifications to your new gate, arrange for additional budget. Wrought iron gates that we, at elegance in iron, install offer excellent quality at great value. We also have different designs to suit a range of budgets.
What usage will your gate have?
Most home owners use the gates to provide security. Some others install a gate for storage or transforming a spot into a living space. The type of wrought iron gate and railing you choose depend on the amount of usage they will receive. If you are installing a driveway gate, you should consider quality product as you will use the gate very often. The security gate are the least used type of gates while pedestrian gates are to be used more often.
What design are you after?
There are certainly many designs available for wrought iron gates. We can easily find the design that suits your property style. Our gates are available with several ornamental features, as well as different measurements and purposes.
Whether you are looking for wrought iron gates for your commercial property or residential building, we can help. View our image gallery for the different options of gates designs.